Hello visitors! Wellcome to my CB750K maintenance log page!
---
Work done in february 2000:
---
Started with draining the oil, removing the sump and the old oil filter. Primary drive chain tensioner rollers very soft, a prove of the 8800 original miles.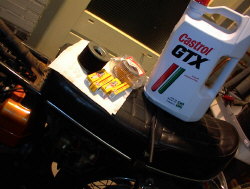 Jammie! Fresh oil after 27 (or so) years!
Cleaned the breaker points and installed an old battery

MILESTONE: filled her up witch gas (had to clean the fuel tap) And she fired right up after a kick or three.

Worked on the brakes last few days. Installed a fresh MC kit.As usual, every thing was very stuck.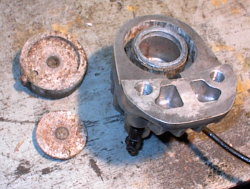 Looking at the two pictures above, you can see that at the left the original brake pad is still installed. This one has a little tower, causing the front disk to show wear only at the center of the disk (right picture). I don't know why Honda did this, probably for ''breaking in'' the disk. But, very important for me: yet another prove of low mileage!
To get the bike up and running quickly, I installed the rearwheel of a K2 with a good tyre. This also has the advantage that I can work on the original wheel off-line. Looking at the above photo's one can clearly see the difference in rubber inserts. left: K2, right: K(0). The partmanual also says that therealso is a difference in the hub's partnumber. This changed during K1 production at frame id 1073286. I haven't been able to find out what exactly that difference is. Lesson learned: Don't use a 48 tooth sprocket on a K(0)! it will hit the drive chain case tabs located at the rear of the rear fork.
By the way: a PO had removed the rear brakes as well, and found it necessary to replace the items without the braking material on it. (Picture soon)
The story of the re-lacing of the rear wheel here. Weekend of february 26/27-2000
---